Yoga and Meditation on Boston's North Shore
Ananda Boston offers group meditations and periodic retreats in Marblehead and North Andover, Massachusetts.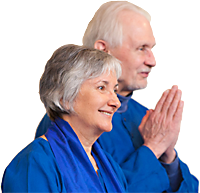 May 1 – 3, 2015, North Andover, MA:
Weekend Kriya Retreat
led by Nayaswamis Jyotish and Devi, Spiritual Directors of Ananda Worldwide. Kriya Yoga is a meditation technique that quickly accelerates one's spiritual growth, first made widely known by Paramhansa Yogananda in his
Autobiography of a Yogi
. Join us for an experiential retreat in which you will learn how to prepare for Kriya Yoga initiation. There will also be initiations into the basic and higher techniques for those who have been approved beforehand or wish to renew their vows. For more information and to register please
click here
.

What is Ananda?
It's a global movement based on the teachings of Paramhansa Yogananda and founded in 1968 by Swami Kriyananda (J. Donald Walters), a direct disciple of Yogananda and widely recognized as one of the leading spiritual teachers in the world today.
Ananda offers support in your quest for spiritual growth, as well as instruction in ancient and effective techniques that allow you to experience joy, love, and inner peace in your life.
Paramhansa Yogananda, author of the spiritual classic Autobiography of a Yogi, was the first great Indian master of Yoga to live in the West. One of his first homes was in Boston in 1920. Yogananda's teachings embrace the universal truths that underlie all religions.
People from all faiths and backgrounds are welcomed at Ananda. We invite you to join us at our yoga retreats, group meditations, and events to experience the joy of your own being.

Yekra Player
Yekra is a revolutionary new distribution network for feature films.
While visiting a spiritual community in northern California called Ananda (meaning "Joy") an investigative journalist armed with a fair amount of skepticism and a dash of curiosity discovers that the key to finding happiness comes from within and that when you change, everything changes.